Anyone who has had cancer knows that they never want to have cancer again. Nutrition plays a role in about 30% of cancer cases. In addition, about one third of cancer could be prevented through a nutritious diet, maintaining a healthy weight, and regular exercise. After not smoking, excess weight is the leading preventable cause of cancer. A healthy lifestyle can help you recover after cancer, and help decrease your recurrence risk.
After treatment, eat a balanced diet and include a variety of healthy foods. The American Cancer Society and the American Institute for Cancer Research offer recommendations for healthy diet, including foods to enjoy and those to limit. A healthy diet can help support a healthy weight and balanced nutrition, as well as recovery after cancer treatment.
Foods to Enjoy
Protein Foods: Plant protein like beans, lentils, and soy, as well as lean animal proteins like chicken, turkey, fish, and seafood, and eggs.
Fruits and Vegetables: Choose a variety of colorful fruits and vegetables.
Low Fat Dairy and Dairy Alternatives (cow, soy, almond, rice etc.): milk, cheese, Greek yogurt, cottage cheese, and kefir. Dairy foods are often good protein sources.
Whole Grains and Starchy Vegetables: oats, quinoa, barley, brown rice, popcorn, corn, potatoes, peas, winter squash, and 100% whole grain bread, pasta, cereal, and crackers.
Nutritious Fats: olive oil, canola oil, nut butters (such as peanut butter or almond butter), avocado, nuts, and seeds.
Beverages: water, tea, coffee (especially decaf), milk, and diluted juice.
Foods to Limit
Sugar-sweetened foods: sugar-sweetened beverages, cereals, granola bars, yogurts, candy, cookies, cakes
White refined carbohydrates: white flour, white bread, white rice, white pasta
Red meat and processed meat: beef, pork, lamb, luncheon meats, pepperoni, sausage, bacon, ham
Trans fats: foods made with partially hydrogenated vegetable oils, commonly found in commercially prepared peanut butter, pastries, fried foods, boxed cake mix, margarine, and shortening. Read labels and look for partially hydrogenated vegetable oil in the ingredient list to be sure.
Alcohol: beer, wine, liquor, wine coolers, mixed drinks, etc.
In addition, research shows that certain strategies can help directly decrease your risk for cancer. Included below are the AICR's Guidelines for Cancer Survivors.
Recommendations to Reduce Your Cancer Risk
Be as lean as possible without becoming underweight.
Be physically active for at least 30 minutes every day.
Avoid sugary drinks, and limit consumption of energy-dense foods (particularly processed foods high in added sugar, low in fiber or high in fat).
Eat more of a variety of vegetables, fruits, whole grains and legumes such as beans.
Limit consumption of red meats (such as beef, pork and lamb) and avoid processed meats.
If consumed at all, limit alcoholic drinks to two for men and one for women a day.
Limit consumption of salty foods and foods processed with salt (sodium).
Do not rely on supplements to protect against cancer.
And always remember - do not smoke or chew tobacco.
A well-balanced diet should include every food group, including lots of plant foods. This type of diet contains phytochemicals and vitamins that can help protect your body from cancer cells. The New American Plate (pictured below) was developed by the American Institute for Cancer Research. This picture shows what a healthy meal can look like. When planning your meals, aim to cover most of each plate (at least 2/3) with plant foods like fruits, vegetables, beans, and whole grains. The rest of the plate (1/3) can include animal foods like chicken, fish, eggs, cheese, and yogurt.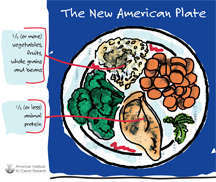 For more information on nutrition recommendations for cancer prevention, click on the links below:
Due to variation in specific illness and treatment plans, eating practices of cancer survivors should be assessed throughout the continuum of care. Request an appointment with a registered dietitian at your treatment facility for a comprehensive nutrition assessment and tailored nutrition therapy plan to reflect your personal goals.
If you are a patient at Taussig Cancer Center at the Cleveland Clinic, you can call 216.444.6833 to schedule an appointment with the dietitian.
If you are a patient at Radiation Oncology at Cleveland Clinic, you can call 216.444.5571 to schedule an appointment with a dietitian.
If you are not a Cleveland Clinic patient, you can call 216.444.3046 to schedule an appointment with a Cleveland Clinic dietitian.
If you are interested in corresponding with a Cleveland Clinic dietitian, but are unable to have an in-person appointment, we have two options for online, distance nutrition consultation services.
To schedule a MyConsult with a Cleveland Clinic dietitian, please go to http://www.eclevelandclinic.org/nutrition
To schedule a virtual nutrition consultation via the online platform ExpressCare Online, please call 216.444.3046.